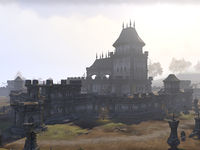 Fort Aleswell is a keep in central Cyrodiil, northwest of the Imperial City. The fort is initially controlled by the Daggerfall Covenant. It is connected via the Transitus Network to Fort Ash, Bleaker's Outpost, and Fort Glademist. Only the Covenant can use the fourth Transitus link to Fort Dragonclaw. It is one of the six keeps an Alliance must control in order to crown an Emperor from their own.
There is an abandoned settlement southeast of the fort. The Daggerfall Covenant forcefully evicted the former residents, and nailed eviction notices to their doors. A letter from a former resident can be found in one of the houses.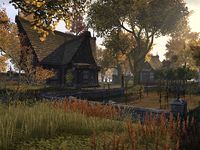 Fort Aleswell is seen in Oblivion as the town of Aleswell. The town also appears in ESO but it is abandoned. It is located on Aleswell Grounds, just southeast of the fort and south of Aleswell Mine.
Varinia Asellus can be found on a wooden platform west of the fort.