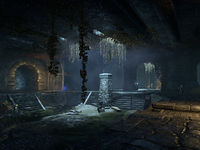 Abyssal Depths is a section of the Aldmeri Dominion branch of the Imperial Sewers. It is approximately half-way between the Dominion Base and the sewers' central hub, and connects to the Irrigation Tunnels and Weaver's Nest.
Lost Tombs
Edit
The corpse of long-dead Emperor Leovic has been found.
The Hatchery
Edit
General Kryozote oversees the breeding of vile creatures.
Points of Interest
Edit