This page is currently being rewritten as part of the Oblivion Houses Redesign Project.
The page is being rewritten and checked in several stages. If you make an addition to this page, please update this template accordingly, but make sure you have observed the project guidelines.
Console Location Code(s)
ICTalosPlazaUmbacanoManor, ICTalosPlazaUmbacanoManorTop, ICTalosPlazaUmbacanoManorUpstairs, ICTalosPlazaUmbacanoManorBasement
Location
Imperial City, Talos Plaza District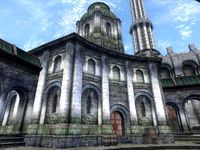 Umbacano Manor is a large house in the Talos Plaza District of the Imperial City. The manor itself is surrounded by both Ulen Athram's House and Jakben Imbel's House. It is also adjacent to the Tiber Septim Hotel.
The wealthy Altmer collector Umbacano and his servant Jollring live here. Umbacano's four guards, Matthias Draconis, Surius Afranius, Umog gra-Marad, and Usheeja protect the house in shifts. The house consists of four zones, Umbacano Manor, Umbacano's Private Quarters, Umbacano's Attic and Umbacano's Basement.
Related Quests
Edit
Umbacano Manor
Edit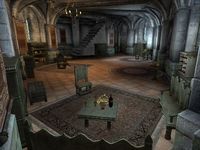 Jollring is usually at the front desk in the hallway, filing papers and tending to visitors. Umbacano stores five bottles of cheap wine as well as a dozen bottles each of Surilie Brothers Wine and Tamika's West Weald Wine on the main level of the manor in wine racks, one on the table next to the door back outside and one in the dining room, with a single bottle of cheap wine on the table next to the door to the dining room. A copy of Glories and Laments rests on the table near the front door.
Umbacano's Private Quarters
Edit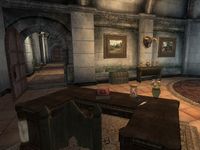 Umbacano's private quarters are at the head of the stairs in the main entrance room, where he keeps a copy of The Wild Elves and Glories and Laments as well as another bottle of cheap wine and Tamika's West Weald Wine. There are two pieces of jewelry on the bottom shelf behind the table. His bedroom contains a jewelry box on top of a cupboard.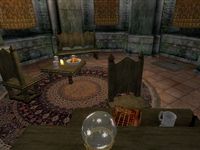 Umbacano's Attic
Edit
The locked trapdoor in the ceiling of Umbacano's private quarters leads to the attic. The attic itself is a small room, with some chairs, a small table, and a desk. The desk has a copy of The Last King of the Ayleids and a bottle of Tamika Vintage 415. A sweetcake is on the small table, along with three silver tankards and a candle.
Umbacano's Basement
Edit
The door beneath the stairs to the private quarters leads to the basement. While it is a large room, it hides nothing of interest, only a variety of clutter.
The Umbacano Manor Key opens the manor's front door and the door to the dining room. Both Umbacano and Jollring carry a copy of this key. Umbacano's Key, carried only by Umbacano, unlocks the remaining doors in the house and the Ayleid Statue display case.