Lore:Yngol Barrow
The UESPWiki – Your source for The Elder Scrolls since 1995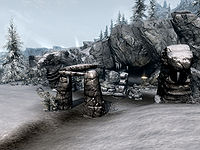 Yngol Barrow (also called the Barrow of Yngol)[1] is an ancient Nordic ruin found in the province of Skyrim, in the region of Winterhold. It is known as the burial ground of Yngol, the eldest son of the Harbinger, Ysgramor. In some sources, Yngol Barrow is found below the cliffs of Hsaarik Head,[2] though an entrance can be found along the White River. It is constructed in the Atmoran tradition.
History
[
edit
]
Ysgramor and his sons would gather the Five Hundred Companions, and return to Mereth. But during the trip across the Sea of Ghosts, the group would be caught in the Storm of Separation, and both Yngol and the crew of the Harakh was claimed by the storm.[3][4] When Ysgramor claimed his body, he had him buried in the Atmoran tradition, in a barrow-hill below the rocky face of the Hsaarik Head, though it is found along the White River, where it meets the Sea of Ghosts.[2] The location of Yngol Barrow is what led to the creation of the city-state of Windhelm, as Ysgramor wanted to have the barrow in a view from his seat of power.[1] The site would remain there since.
During the Skyrim Civil War in 4E 201, Yngol Barrow was largely untouched, becoming Draugr-infested. An adventurer would delve into Yngol Barrow after acquiring the Coral Dragon Claw in Winterhold. In here, they faced the shade of Yngol and subsequently claimed the Helm of Yngol.[5]
Gallery
[
edit
]
References
[
edit
]
^ Yngol's Barrow quest in Skyrim