This page is currently being redesigned for the Lore Places Project (LPP).
The page may need work to meet the standards outlined on the project page.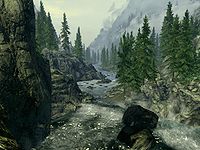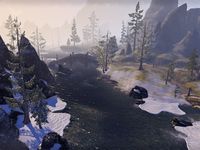 The White River is the longest river in Skyrim, stretching from the south of the province to the northeast corner. Its source is Lake Ilinalta, north of Falkreath. It flows northeast to join the Sea of Ghosts past Windhelm, the mouth of the river is called Slaughterfish Bay and is part of Winterhold's borders.[1] Along the way, it passes through Riverwood and near Whiterun. Darkwater River and River Yorgrim are the two main tributaries of the White River.
The waterfalls where the White River meets the Yorgrim River are known as Dead Man's Fall. The Nords of the Lower Yorgrim will jump off the waterfalls and into the river as part of a New Life Fesitval tradition called the Snow Bear Plunge.[2]