This page is currently being rewritten as part of the Morrowind Overhaul Project.
The page is being rewritten and checked in several stages. If you make an addition to this page, please update this template accordingly, but make sure you have observed the project guidelines.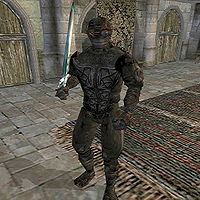 The Dark Brotherhood Assassins are a set of masked, hostile, generic NPCs of Assassin class in the Tribunal expansion, all of whom are members of the Dark Brotherhood faction [in lore only—see the Bugs section]. All of them added by the expansion are Dunmer and male, though in lore the membership is more mixed. They come in ten varieties (aside from their boss, Dandras Vules), mostly with different levels and ranks, as detailed below. Their role in Tribunal is twofold, in two different sub-quests of the Main Quest of the expansion.
Firstly, they will randomly attack the player character sometimes while using the Rest function, if you are sleeping anywhere but the bedroll in the Census and Excise Office in Seyda Neen. These attacks persist for some time—slowly increasing in frequency and ferocity—until you take the initiative to seek out the Dark Brotherhood by going to Mournhold. See the Dark Brotherhood Attacks quest for details. These sleep attackers increase in power (and eventually—if you delay engaging with most of the Tribunal expansion—in number) as your level goes up.
Secondly, they populate a hidden lair in the Manor District of Old Mournhold, accessed via the Bazaar Sewers under Mournhold's Great Bazaar. You must track down and despatch their boss, Dandras Vules, to get a revealing document from him. See the Hunt the Dark Brotherhood quest for details. The generic assassins respawn there, even after Vules is killed. They also increase in power (but not in number) as your level increases.
Looting these recurrent enemies is a great source of valuable and useful gear. All wear full suits of Dark Brotherhood Armor, the lightest in the game and the second-best Light-class armor in protection value, after Glass (though the suit lacks a shield). Because they appear in their old Manor District lair in numbers, frequently armed with paralyzing and poisonous weapons, be well-prepared.
Those who attack you in your sleep also bear a pricey Carved Ebony Dart, but you will not be able to take it from one unless you kill him before he can throw it. The melee weapons they bear vary, but are all Short Blade types:
Assassin Stats
Edit
As sleep-attackers, their level varies with your own. They attack singly until you are level 20 or higher, whereupon two will appear at a time. Likelihood of attack increases with player level (specifically at levels 4, 10, 20, and 30). The sleep assassins may have IDs db_assassin1b, db_assassin1 (at level 4), db_assassin2 (at level 10), db_assassin3 (at level 20), and db_assassin4 (at level 30).
Those who may appear in Old Mournhold (depending on player level) are db_assassin1c, db_assassin1a (at level 5), db_assassin2a (at level 10), db_assassin3a (at level 20), and db_assassin4a (at level 30), plus boss Dandras Vules (rank 8, Dark Brother).
No assassins with faction ranks 4, 6, or 9 appear in-game, though Severa Magia, leader of the Dark Brotherhood in vanilla Morrowind (which doesn't have the Dark Brotherhood coded as a faction, or with ranks set for its members) would be the equivalent of rank 9 (Master Assassin, i.e. guildmaster).
Arranged by increasing level and rank, the generic assassins' stats are the following:
* See Bugs section.
Due to an oversight, the masked assassins are members of this faction as a plot/lore point but are not actually coded in the CS with any faction ID, though they do have their faction ranks set.