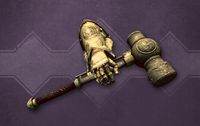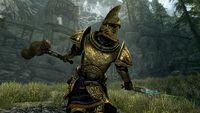 Sunder & Wraithguard is a Creation that completes the set of Kagrenac's Tools from Morrowind, adding the hammer Sunder and the gauntlet Wraithguard. It was released on December 6, 2018 for 500 CC Credits.
Some of the art was created by Elianora.
Official Summary
Edit
Crafted by the Dwemer Tonal Architect Lord Kagrenac, Sunder and Wraithguard represent two of the three tools created to tap into the Heart of Lorkhan. Imbued with ancient magic, the weapons are said to empower not only their wielder, but each other. Additional Art Support by Elianora.
Books
Creatures
Items
Places
Quests
A render of Wraithguard has been present on the banner of the Creation Club website since its launch.
This Creation received an update in February 2019 which made several texture and skinning fixes for Wraithguard, the left gauntlet that pairs with it, and Sunder.