Skyrim:Penitus Oculatus Outpost
The UESPWiki – Your source for The Elder Scrolls since 1995
This article is being developed as part of the Skyrim Houses Redesign Project. If you see this tag it means the article can still be improved. Please see the project page for guidelines.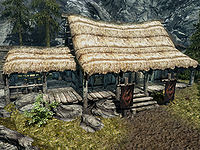 The Penitus Oculatus Outpost is the headquarters of the Penitus Oculatus order in Skyrim, located in Dragon Bridge.
It consists of one zone, Penitus Oculatus Outpost.
Related Quests
[
edit
]
Exterior
[
edit
]
Penitus Oculatus Outpost
[
edit
]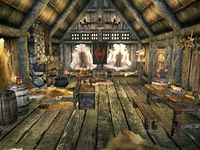 Immediately to the left upon entering is a respawning food barrel next to a table holding four loaves of bread, four bottles of alto wine, four pieces of salmon steak, two chicken's eggs, one sweet roll, and two bottles of Nord mead. Above the table are several hanging ingredients, including three portions of dried frost mirriam, four portions of dried elves ear, and three garlic braids. To the right of the table is a woven basket containing eight potatoes, and a respawning meat barrel with one potion of minor healing and two potions of minor stamina resting atop it. Above the basket and barrel are two hanging racks, one of which holds three freshly caught rabbits while the other holds two pheasants and another rabbit.
In the northwest corner is a single bed with a small non-respawning chest at its foot. A basket containing three pine thrush eggs sits on the floor to the right of the bed, along with another respawning food barrel holding three bottles of Nord mead on top. Another single bed with a small non-respawning chest at its foot is situated next to this food barrel, and a copy of the book The Code of Malacath is stashed beneath the bed. Next to this bed, directly across from the front door, is the fireplace, where four bottles of Nord mead and one bottle of wine are found on the mantel. The base of the fireplace holds a kettle containing five pheasant breasts on the left, and a cooking pot on the right. In front of the fireplace is a small table holding an iron dagger, five loose gold coins, a medium coin purse, and three bottles of Nord mead. To the right of the fireplace is a non-respawning end table. A small non-respawning chest rests on the floor at the center of the east wall, flanked by a single bed on each side.
The porch of the outpost hosts five respawning food barrels, a respawning sack, a workbench, a tanning rack, and a table holding a bottle of ale and a copy of Palla, volume 1.
All four beds here belong to the PenitusOculatusFaction.
Dialogue between Commander Maro and a Penitus Oculatus Agent during the quest Hail Sithis! indicates that the outpost is supposed to be abandoned once the Emperor leaves Skyrim, though this never occurs in-game.