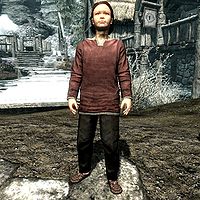 Joric is a Nord child living in Morthal with his sister Idgrod the Younger. His parents are Idgrod Ravencrone and Aslfur.
He may have the same power of visions as the other people in his family as he will sometimes say to you that "You're different, aren't you? Not like anyone else. Not in Morthal, or Skyrim". and "Gorm thinks I'm mad. He doesn't say it, but I know he thinks it. Is he right?" He will also sometimes talk about his life in Morthal with remarks such as "I can't sleep here. The dreams are even worse than before." and "I get lost sometimes. I'm not sure where I go, but I'm not... I'm not here.".
When talked to enough, Joric will say "It's Falion. He...He did it. I don't know what it was, but he did it."
He wears child's clothes and a pair of shoes. He carries a selection of food and toys and a small amount of gold.
If Hjaalmarch is captured by the Stormcloaks, Joric and Idgrod will be exiled to the Blue Palace in Solitude.