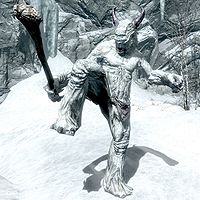 Frost Giants are found inhabiting the Forgotten Vale. They are added by the Dawnguard add-on. There are five of them, each holding a different Paragon. They do not respawn, and are found in fixed locations.
Frost giants are much stronger than the normal variety of giants as they have more than double the health, and can cause considerably more melee damage than normal giants. If you plan to fight frost giants, keep in mind that they are completely immune to any form of frost magic, but have a significant weakness to fire.
Locations
Edit
The locations of each exterior frost giant are also marked on this map.
Related Quests
Edit