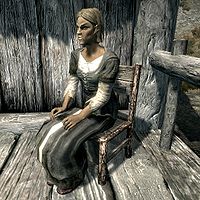 Curwe is an Altmer farmer and the wife of Vantus Loreius. She lives with him on their farm. If you alert the guards to Cicero's activities during Delayed Burial, then Cicero will kill Curwe and her husband.
She wakes up every morning at 7am and starts the day with a one-hour breakfast. At 8am she heads outside and starts working the land, at times sweeping the porch. At 7pm she takes a one-hour dinner before she goes to bed early at 8pm.
Curwe wears a set of green farm clothes and a pair of boots. She is equipped with an iron dagger, and carries a key to the farmhouse, as well as a selection of common items and gold.
Attempting to speak to her will result in only one response, "You need something talk to my husband. Vantus Loreius. Or just Loreius, if it's all the same to you." While she doesn't talk much to strangers, she will often debate with her husband:
Curwe: "You know, I was thinking of expanding the herb garden. Make room for some new plants I'm planning."
Vantus: "That should be all right. How much space were you planning?"
Curwe: "Oh, half the field should do."
Vantus: "Half the field? What could need half the field?"
Curwe: "I just think pollinating would be easier if I could do a lot of plants at once."
Vantus: "Uh... why don't we talk about this later?"
Curwe: "I had a look at that boneyard the other day, Vantus. The one to the Northwest."
Vantus: "I told you I don't like you going there. I've seen scavengers picking at the mammoths. They could be dangerous."
Related Quests
Edit