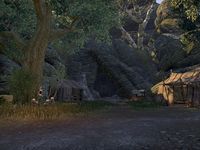 Timberscar Hollow is a cave in southeastern Cyrodiil, southwest of Drakelowe Keep and just southeast of Cropsford.
The interior of the cave is inaccessible, but there is a camp of the Timberscar goblins in front of the entrance. Several of the goblins are attempting to break down the Nordic-style stone door blocking the cave entrance.
The cave does not have its own map marker.
Related Quests
Edit