In an annual Windhelm competition, contestants must ride their potential prizes up a mountain then down at top speeds—bareback and without falling off. Most rams toss riders into the air on purpose, validating the claim that the ram chooses its rider.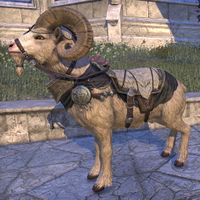 The Yorgrim River Ram is available in the Crown Store for 030003,000 

. It released on July 9, 2020. Its default name is "Skyram".