The Quasigriff is an upcoming mount. Its default name is "Meylonaire".

A scholar studying Mnemoli the Blue Star as well as a Whispering Claw warrior, this Senche-raht serves Queen Khamira with both brain and brawn. He volunteered to travel with you, lending you speed and steady companionship.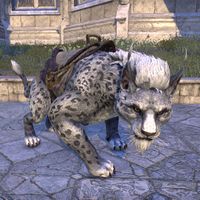 The Queen's Claw Senche-raht was available in the Crown Store for 030003,000 

from April 22 through April 26, 2020. His default name is "Sarshaar".