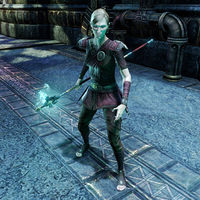 Major Carina is an Imperial officer of the Seventh Legion found in the ruins of Razak's Wheel. She is one of the officers responsible for interrogating Damrina.
She can be found in an alcove west of Centurion Solinthia and Spymaster Geta. When you investigate the ruined construct in the middle, Major Carina will appear and attack.
Related Quests
Edit
Spells and Abilities
Edit
Major Carina: "Hands off—that's Imperial property! Razak's Wheel shall be your grave!"