The Dark Elves of Morrowind have five Great Houses. Once, long ago, there was another... but it has been erased from official histories, and no one dares speak its name.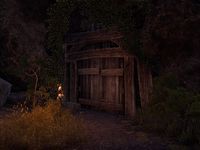 The Forgotten Wastes are a public dungeon found near the northern coast of Vvardenfell.
The dungeon is divided into several sections: a large overland area containing the stronghold of Kogoruhn, the Drinith Ancestral Tomb, the cave of Kora Dur, the Forgotten Depths, and the Caverns of Kogoruhn.
Related Quests
Edit
Forgotten Wastes Objective: Find Tythis's lost sister in the Forgotten Wastes.
Notable Items
Edit
Drinith Ancestral Tomb
Edit
Achievements
Edit