Public Dungeon
Discoverable
Yes
Completion
Dungeon Clear
Dungeon
Yes
# of Zones
1
Skyshards
1
Zone
Vvardenfell
Location
The northern coast of the island, west of Valley of the Wind Wayshrine
Loading Screen

The Dark Elves of Morrowind have five Great Houses. Once, long ago, there was another... but it has been erased from official histories, and no one dares speak its name.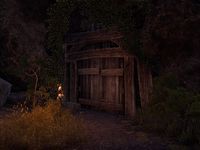 The Forgotten Wastes are a public dungeon found near the northern coast of Vvardenfell.
The dungeon is divided into several sections: a large overland area containing the stronghold of Kogoruhn, the Drinith Ancestral Tomb, the cave of Kora Dur, the Forgotten Depths, and the Caverns of Kogoruhn.
Enemies in this zone rarely drop the seven parts of the Sixth House Robe costume.
Related Quests
Edit
Forgotten Wastes Objective: Find Tythis's lost sister in the Forgotten Wastes. / You put an end to the cult that compelled Nevena's betrayal.
Characters
Edit
Achievements
Edit