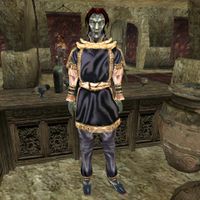 Selkirnemus is a Dark Elf trader who runs The Pilgrim's Rest in Molag Mar. He has a very limited supply of food ingredients for sale and will also buy any ingredients or potions you wish to sell to him.
He wears an extravagant shirt with matching belt, pants, shoes, and sapphire amulet. Aside from his natural resistance to fire and the sanctuary provided by his ancestors, he knows no spells.
If you ask him for the latest rumors, he'll say: "Tidros Indaram had to bail out Giras again. One of these days, Giras is going to go to [sic] far and even his family name won't protect him."
Items in bold are Leveled Lists. Click on them to learn more about what they may contain.