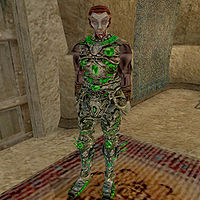 Tidros Indaram is a member of the Buoyant Armigers, the military branch of the Tribunal Temple. He and his two brothers, Birer and Giras, also Buoyant Armigers, can be found at the Armigers Stronghold in Molag Mar, and it seems Giras owes a debt to House Redoran for some armor repairs. Tidros seems to be the sensible one of the three, so you should speak with him first in order to settle things amicably.
He wears a glass cuirass with matching greaves and boots along with a common shirt with matching belt, pants, and amulet. He carries a glass jinkblade, a steel shortsword, and a pair of common shoes. Aside from his natural resistance to fire and the sanctuary provided by his ancestors, he knows the spells Daedric Bite, Lightning Storm, Lightning Bolt, Temptation, and Wild Torpor.
Related Quests
Edit
Quest-Related Events
Edit
Armor Repair Debts
Edit
You will have to speak with Tidros in order to get his less reasonable brother Giras to consider paying his debt:
armor repair debts

"If Giras owes a debt, why are you asking me about it?"
Giras refuses to pay his debts.

"Alright, perhaps I can talk sense into my bother. Just tell him I said that paying the debt would be the honorable thing to do."

Nevermind.

"Well, perhaps you can settle this issue yourself."
If you speak with him again after he agrees to talk some sense into Giras, he says:
armor repair debts

"Talk to my brother, Giras. Tell him that I said its time he started showing some responsibility."
And if you refuse to duel Giras and subsequently speak with Tidros, the latter says:
armor repair debts

"If he challenged you to a duel, you should accept to uphold your own honor. Even if it is clear that my brother is the one at fault."
Note, however, that Tidros won't be willing to help you if you kill either of his two brothers. In that case, trying to speak with him yields the following response:
"You have slain my brother, n'wah."
Goodbye.