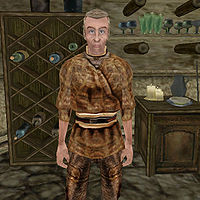 Fenas Madach, a Breton thief, is the proprietor of the Madach Tradehouse in Gnisis. He has a variety of ingredients and other items for sale.
He wears a common shirt, common pants, and a pair of common shoes. He carries a key that opens nothing. Aside from his natural bonus and resistance to magicka, and his ability to shield himself for short periods, he doesn't know any spells.
latest rumors

"Bilsa Andaram said she heard a group of smugglers talking about a trans-shipment point in a cave up on the coast in the West Gash. All she could catch was that it was north of Koal Cave and the Odai River, and that it was near a natural bridge of rock that arched over the water."
Negative numbers indicate restocking items.
Items in bold are Leveled Lists. Click on them to learn more about what they may contain.