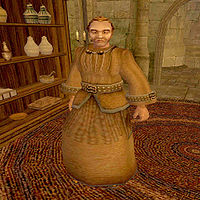 Cocistian Quaspus is an Imperial apothecary who sells all manner of alchemical supplies at Buckmoth Legion Fort near Ald'ruhn. Cocistian is a restocking vendor of a few rare alchemy ingredients and minor potions.
He is wearing a common robe with matching shoes. Aside from his natural charm and ability to absorb fatigue from others, he knows the spells Fire Storm, Firebloom, Flamebolt, Frostbloom, and Frost Bolt.
Negative numbers indicate restocking items.
Items in bold are Leveled Lists. Click on them to learn more about what they may contain.