Lore:Wind Keep
The UESPWiki – Your source for The Elder Scrolls since 1995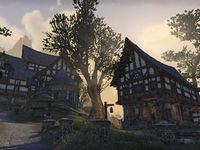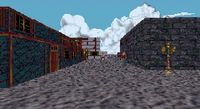 Wind Keep is a notable township situated in the eastern hills of Stormhaven, in the province of High Rock. Wind Keep is the largest settlement in the rolling hills of Gavaudon. It is home to High Rock's most skilled light armor tailors, including the illustrious House Manteau, who are considered the most revered in the art of tailoring.[1] The town of Wind Keep is also the seat of power in the County of Wind Keep.[2]
History
[
edit
]
Wind Keep is a tailoring town by heart, housing various families that have mastered the art, such as the Manteau, the Raiments, the Garments, and the Habiliments.[1] House Manteau in particular rose to prominence in the First Era, when they were tailoring cloaks for King Joile of Daggerfall and his court.[3] Ever since then, members of House Manteau have served as the leaders of Wind Keep, both as a Duchy and later as a County.[4]
During the Interregnum circa 2E 582, the township of Wind Keep was considered part of the Daggerfall Covenant[5] and was ruled by the widowed Ilise Manteau, Countess of Wind Keep. A radical group of Vaermina worshippers known as the Supernal Dreamers were spreading the Daedric Prince's influence throughout Stormhaven. As part of the cult's plot, Countess Ilise had come into contact with an enchanted mirror, which trapped her mind in a pocket realm of Quagmire.[6] The countess remained present in body, but suspicions were raised due to her odd behavior when many suitors descended upon Wind Keep seeking her hand in marriage. With the help of the Soulless One, the countess was freed from the mirror, ending the Dreamers' plot.[7]
During the Imperial Simulacrum in the late Third Era, the village of Wind Keep was ruled by Lord Uthistyr. It had a rivalry with Norvulk Hills and Black Wastes.[8] It was neighbored by several settlements, including Black Wastes to the north, and Vermeir Wastes to the southwest.[9]
A small town was still in existence at Wind Keep after the conclusion of the Great War circa 4E 175.[10]
Gallery
[
edit
]
References
[
edit
]
^ a b Clothier: Light Armor Basics — Lady Eloisse, Fifth Countess Manteau
^ The description of Framed Duchess Portrait in ESO
^ Events of A Look in the Mirror quest in ESO
^ Events of Gift from a Suitor quest in ESO
^ Lea Jeanne's dialogue in Blades