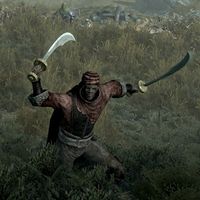 Majid the Mad is a Redguard mercenary who is encountered at a camp southeast of Fort Greymoor during the quest Gift of Kynareth. He is the leader of a band of Alik'r mercenaries that stole the Lord's Mail. He is hostile and will attack on sight.
Majid wears a set of red Redguard Clothes and a unique red Redguard Hood, as well as a pair of boots. He wields two scimitars, carries a random amount of gold, the Key to Alik'r Mercenary Chest, and has a 25% chance to carry a lockpick. The key is needed for the related quest to unlock the chest containing the Lord's Mail and a set of instructions named Majid - Please Read.
He is accompanied by two Alik'r mercenaries and can be a tough fight, so prepare accordingly.
Related Quests
Edit
The Redguard Hood item worn by Majid is identical in appearance to that worn by Nazir, but is actually a different item. The Redguard Clothes item is the same one worn by Nazir.