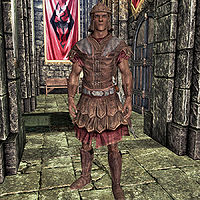 This particular soldier is the one who kills Lokir during his futile attempt to avoid the headsman's axe during Unbound.
Imperial Soldiers are the forces of the Imperial Legion. They are mostly made up of Imperials; however local recruiting has increased the amount of Nords in the Legion. Highly trained and well led, the soldiers of the Imperial Legion have earned a reputation as some of the greatest warriors in Tamriel. Imperial Soldiers have fought in many memorable and historic battles, and used their training and skills to conquer the rest of Tamriel under Tiber Septim and establish the modern empire. There are no random female Imperial Soldiers.
Imperial soldiers wear a full set of Imperial armor, and may carry an Imperial Sword or Bow. They may also randomly carry any Amulet of the Divines except Talos.
You may come across a Stormcloak prisoner transport, where you may choose to free the prisoner. Choosing to free them will immediately cause the Legionnaires to become hostile.
Quest-Related Events
Edit
Siege on the Dragon Cult
Edit
Captain Valmir: "The research I've done seems to indicate that Skorm Snow-Strider left part of his journal here after laying siege. I believe it should indicate how to enter the blocked off sections of the stronghold. I should warn you, Forelhost is quite haunted, but I'm sure you can handle it. Return to me here once you've obtained the staff."
Imperial Soldier: "Wait it's haunted? I don't like ghosts... let me think about this for a minute... Wait... who in the blazes is this?"
Captain Valmir: "Oh! Um, he he... Hold on... I... I can explain..."
Imperial Soldier: "Valmir, you rat. You're not a soldier at all! Must be one of the Thalmor!"

Jagged Crown
Edit
When interacted with they can say:
"You must be the new recruit. Welcome to the Legion."
"I don't know what we're doing here, but orders are orders."
"I keep thinking I see something moving in the shadows…"
"I hope we don't run into anything worse than Stormcloaks in here."
"It's the waiting that gets me."
"I don't like the look of this place."
"I wish the Legate would let us clear out of here. Place gives me the creeps."
"At least we got the damn crown. I hope it was worth it."
Imperial Soldier: "What in the nine holds is that?" (Noticing a dead Draugr)
Legate Rikke: "Steady now. The Legion has faced down worse than a few dusty old bonewalkers. We're not leaving here until we get what we came for. Now let's keep moving."
Legate Rikke: "I don't like the look of this. Perfect spot for an ambush. Ten to one they're just waiting for us on the other side."
Imperial Soldier: "But there isn't any other way through, Legate."
Legate Rikke: "Let's not jump to conclusions, soldier. The Legion always finds a way. I'd rather take a moment and look around than walk blindly into an ambush. Auxiliary, see if you can find another way through. We'll charge in to help as soon as we hear fighting."
If the player joins the Stormcloaks and heads straight to Korvanjund without speaking to Galmar the Imperial Soldiers there won't be hostile and can be interacted with:
"Don't interfere with Imperial Legion business. Now move along, unless you want three inches of steel in your gut."
While finding another way through with the Stormcloaks, and you can overhear a conversation.
Imperial Soldier 1: "You hear anything?"
Imperial Soldier 2: "No, but I know they're out there. No other way they can come. Now shut up or you'll blow our ambush."
Imperial Soldier 1: "I don't like it. What are they waiting for?"
Imperial Soldier 2: "Maybe they're so scared of you they ran away."
Imperial Soldier 1: "Hardly likely."
Imperial Soldier 2: "Just shut up and keep out of sight."
"The Legion's always looking for strong, capable warriors. If you think you've got what it takes, our headquarters is in Solitude." (When the player hasn't joined the Imperial Legion or the Stormcloaks.)
"Keep an eye out for Stormcloak spies."
"Been so long since I killed a Stormcloak, my sword arm's getting flabby."
"Stay alert. Never know when those Stormcloak dogs might charge."
"Damn Stormcloak rebels."
"What the rebels like to forget, is that the Empire's what's keeping the Dominion out of Skyrim."
"Can't wait to kill another of Ulfric's boys."
"Stay sharp."
"Keep your guard up."
"Keep an eye out for trouble. It's only a matter of time."
"Not sure you belong here, citizen." (When the player hasn't joined the Imperial Legion.)
"Well? Where the hell are those damned Stormcloaks? Let's get this over with already." (Said before the battle of Whiterun starts)
"Auxiliary."
"Quaestor."
"Praefect."
"Tribune."
"Legate!"
When the Battles of Windhelm and Whiterun have ended, the Soldiers can say one of several lines when interacted with.
"We sure showed them!"
"They'll think twice before coming back here, that's for sure!"
"We did it!"
"I feel so alive!"
"We destroyed those Stormcloak traitors!"
"We sure showed them, eh? Thanks for your part in all that."
"Good job out there. Glad you were with us."
"Thanks. Couldn't have done that without you."
In combat, they can shout:
"Die rebel!"
"Send Ulfric my regards!"
"You call yourself a warrior?"
"For the Emperor!"
"For the glory of the Empire!"
Conversations
Edit
Imperial Soldier 1: "So why'd you join up with the Legion?" OR "How'd you end up here?" OR "What are your thoughts on all this?"
Imperial Soldier 2: "My father was a Legionnaire, and his before him. I guess I never considered doing anything else." OR "I signed on 'cause I couldn't watch the Stormcloaks tearing everything apart and not do something. But, most of my family disagrees with my choice." OR "I know it's what everyone says, "To go to new places and see the world." But it's true in my case... I never bargained on seeing more than I liked."
Imperial Soldier 1: "I'm still sore where I took that arrow. I hate archers" OR "This imperial armor is damn heavy" OR "I'm sick of all this waiting. When are we going to see some action?"
Imperial Soldier 2: "Aw, quit your bellyaching." OR "Yeah, I know what you mean." OR "It's not that bad."
Imperial Soldiers can be found wearing amulets of the Divines, although they can wear depictions of any Divine except Talos, they are four times as likely to wear an amulet of Stendarr.
Both the Legion and Stormcloak soldiers talk of Legion soldiers in their heavy armor implying that the Imperial soldiers would use their heavy armor more commonly.
There is dialogue from an early version of Unbound where you could've gone with Tullius and Hadvar and some Imperial Soldiers. Some of this dialogue can still be heard if you went with Ralof and play as an Imperial with the Voice of the Emperor power.
"Hey, weren't you on the carts with the Stormcloaks? Ah, well, if Hadvar vouches for you I guess it must be all right."
"I saw Caius.. that dragon just grabbed him and... I don't know how I made it out of there…"
"Nothing for it but to keep moving."
"Better down here than out there."
"A dragon.... First in a thousand years...."
There is also unused dialogue meant to be used during Civil War battles and sieges, leftovers from when the war was more complex. In the final game, Stormcloaks do not use archers or mages.
"Take out their archers!"
"Archers!"
"Someone take out that mage!"
"Someone put an arrow in that damn wizard!"
"Along the fence, do you see them?"
"They got archers over there by the fence!"
"Wizard! Hiding over there by that fence!"
"Up in that tower! Quick!"
"Archer in that tower!"
"Mage up there! In the tower!"
"Over by the tree!"
"They got archers up along the wall!"
"Look! Up on the wall. A wizard!"
"Look sharp. There they are. In the window!"
"Archers. Behind those windows!"
"They've got a mage hiding in that window up there!"