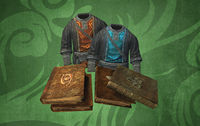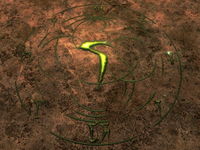 Arcane Accessories is a Creation that adds numerous new robes and spells to the game. It was released on October 4, 2017 for 100 CC Credits. Many of the spells originally appeared in Oblivion's Spell Tomes add-on.
Official Summary
Edit
From robes that grant spellcasting bonuses, to ancient tomes holding powerful spells like Paralysis Rune and Unbounded Frost, this pack will increase any mage's effectiveness. (Robes and Spells can be purchased at vendors and appear in containers.)
The items added by this Creation can be encountered through normal gameplay, such as from vendors and loot chests. You can also locate a chest in Hob's Fall Cave that contains spell tomes for every new spell.
Note that the new robes can be very powerful, and the spells use far less magicka than anything available in the base game with the same effect.
28 items are included with the Creation, including spell tomes for each new spell.
Magic

16 new spells can be learned from their corresponding spell tomes.
Quests
Originally, upon installation of this Creation, a set of leveled Robes of Destruction & Alteration and leveled Robes of Conjuration & Illusion would be added directly to your inventory, and the quest The Lost Library will be added to your journal directing you to the chest in Hob's Fall Cave. This quest was removed as part of the Anniversary Edition update, and the robes will no longer be automatically added to your inventory.
The leveled robes can be purchased at Radiant Raiment.
The Destruction skill can be leveled to 100 in a matter of seconds using any of the Unbounded spells, no matter how low the level starts at. It can be level 10 and it'll still go to 100 instantly. Once the spells are acquired, get any Fortify Destruction enchanted gear and/or augments to reduce Magicka usage cost. Head to a more secluded location at one side of the map. Dismiss your follower then equip any of the Unbounded spells (Freezing and Storms seems to work best) and begin to do a continuous cast with the button held down. Go to your map as you're still casting and fast travel to the opposite side of the map to a secluded area (Castle Volkihar to Stendarr's Beacon is fitting for this trick). After the loading screen, check your Destruction skill and it should be at level 100.