Discoverable
No
Occupants
Daynea Rethul, Deesh-Mota, Divayth Fyr, Dreyla Indavel, Egg-Face, Gemma, Midar, Navam Ginith, Ranul, Vadeni
Zone
Azura's Coast, Vvardenfell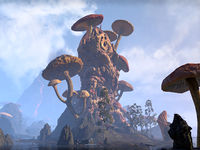 Tel Fyr is a Telvanni tower found in the Azura's Coast region of Vvardenfell. It is the home of renowned wizard Divayth Fyr. The tower serves as the entrance to the Halls of Fabrication trial.
Related Quests
Edit