Online:Hitari
The UESPWiki – Your source for The Elder Scrolls since 1995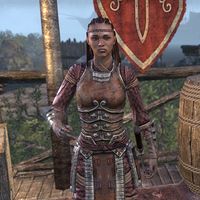 Hitari is a Redguard armsman and Fighters Guild member who can be found in Lilmoth, outside the Guild Hall.
Dialogue
[
edit
]
"No weapons I can sell you will help against the dangers of quicksand. Careful where you step, traveler, else the ground may swallow you whole.
"The Fighters Guild tried recruiting some members of the Dead-Water Tribe, but we weren't particularly well-received. A shame. Many claim they are the greatest warriors in this swamp."
"I've heard Murkmire was filled with relics, but I've yet to hear of a useful one. Skulls, stones, clumps of amber … where are the swords of power? The cutlasses, the bows?"
"Not all the blossoms within the swamp have a sweet scent, traveler. Some carry a noxious gas within them. It's best to keep your distance, should you encounter one."