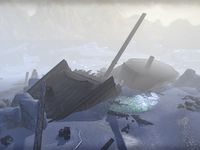 The Frozen Fleet is a frozen plain found southwest of Fharun Stronghold. A Breton fleet was broken along the shore, and the survivors have set up camp nearby. The surroundings of the shipwrecked fleet are swarming with riekr goblins and occasional ice wraiths.
Three of the wrecked ships are named High Rock's Zeal, Materre's Fortune and Pride of Northpoint.
Related Quests
Edit
Frozen Fleet Objective: Help the survivors of the Frozen Fleet.
Of Sentimental Value: Find a shipwreck survivor's lost pendant.