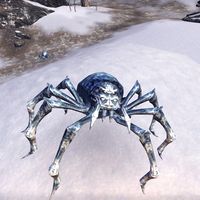 Frostbite Spiders are spiders that can be found near the Hunter's Camp on Bleakrock Isle. They are also mentioned in passing by Ashaka of Morkuldin Clan in Wrothgar.
Related Quests
Edit
---
Frostbite Spiders are also found in Nchuthnkarst.
---
The Frostbite Spider is a giant Frostbite Spider found in the Deepwood Cavern. You have to kill it in order to escape.
Related Quests
Edit