Crimson Nirnroot is a red plant and alchemy reagent which is always found near water sources. It can only be found growing in Blackreach caverns, such as Greymoor Caverns

and Mzark Cavern. It produces a strong chiming sound to anyone nearby.
Combinations
Edit
Two Reagents
Edit
Three Reagents
Edit
This chart lists only combinations in which two or more of Crimson Nirnroot's effects are present.
Desired Effects
Combine with:
Side Effect(s)
TBD
TBD
TBD
TBD
TBD
TBD
TBD
TBD
TBD
TBD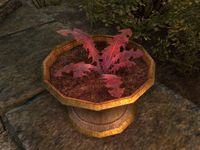 Crimson Nirnroot was first seen as a decorative furnishing in the Marbruk Primary Vault, present since launch. It was only added as an ingredient in Update 26.