"Wry without equal, Sheogorath holds in his realm giggling loons, flamboyant auteurs, and craven mutilators. The Mad Prince will ply profitless bargains and promote senseless bloodshed for nothing more than the joy of another's confusion, tragedy, or rage." — 16 Accords of Madness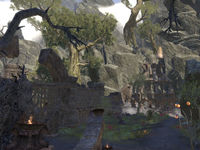 Cheesemonger's Hollow is a small part of Sheogorath's realm of Oblivion full of Daedric ruins, accessible from Alliance base camps in Cyrodiil. Sheogorath himself uses this quiet valley to train Alliance soldiers on artifacts for when they're released onto the battlefield.
This particular part of the realm can be revisited at any time after the quest to use the artifacts again. Currently only Volendrung is available.
Related Quests
Edit