Quest Hub
Discoverable
Yes
Completion
Objective
Zone
Eastern Wrothgar, Wrothgar
Location
North of Orsinium
Crafting Stations

Cooking Fire (x3)

Loading Screen

"There are those who say that Orcs and the various races of Goblins are closely related. If so, they must not come from a very happy family, because they never seem happy to see each other."—Phrastus of Elinhir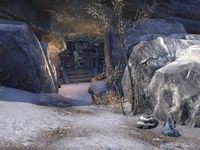 Bonerock Cavern is a cave found north of Orsinium.
Related Quests
Edit
Bonerock Cavern Objective: Help the Orc hunting party at Bonerock Cavern.