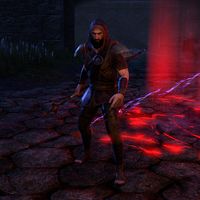 Battlemage Papus is an Imperial necromancer of the Seventh Legion found in the Royal Crypt of the Bangkorai Garrison. Septima Tharn left him in charge of the ritual to summon a dark anchor into the garrison itself.
Related Quests
Edit
While moving through the Royal Crypt, he can be heard having a conversation with Septima Tharn.
Battlemage Papus: "The king's champion is coming, Magus-General. Should we make an example of this fool?"
Septima Tharn: "It's not "we", Papus. It's "you". I have other matters to attend to. Finish the ceremony first, then deal with the interloper."
Battlemage Papus: "Yes, of course. The dark anchors first, then the...interloper. Thank you for this honor, Magus-General. Glory to the Empire!"
Septima Tharn: "Glory to the Lord of Brutality, Papus. Glory to Molag Bal."
When engaged in combat he will taunt you:
Battlemage Papus: "The garrison is ours! You imbeciles will soon witness the Empire's true strength!"
Though he is called a Battlemage, he uses abilities from the Time Bomb Mage class.