Summer Bolete Cap
00

084470

1
0.1
Alchemy Effects
1st
 Restore Agility
2nd
 Shield
3rd
 Damage Personality
4th
 Damage Endurance
Sources
# Samples
8
Plant
Summer Bolete
 %
50
# Plants
1583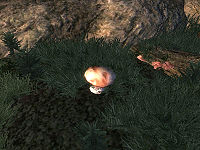 The ingredient Summer Bolete Cap comes from the plant "Summer Bolete", which is a mushroom found in the Great Forest and around the Silverfish River, the Panther River and Lake Canulus. It has the same effects as both Emetic Russula Cap and Cinnabar Polypore Red Cap but is much more common than either.
Ingredients
Edit
8 guaranteed samples can be found in the following locations:
It can also be found randomly in the inventories of alchemy vendors and in some loot chests.
The places with the highest concentrations of Summer Bolete Cap are:
Map marker locations with high concentrations include: