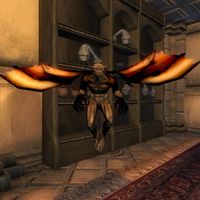 Sparky is a pet Imp owned by Thaurron. Sparky can always be found in the Anvil Mages Guild where it follows its master around the entire day.
It is a Mages Guild member, so attacking it while you are also a member will cause you to be expelled.
If Thaurron dies, Sparky will remain floating in place.