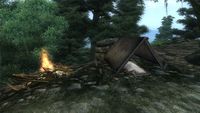 Bogwater is a deserted campsite southeast of Leyawiin (quest-related).
The camp can be found on the southern tip of Blackwood, just a few feet away from the shores of Topal Bay. It consists of a tent with a bedroll and a huge roaring campfire; next to the fire is a non-respawning Hollowed-Out Rock which contains a leveled amount of gold, one of the possible rewards for completing the related quest. Not surprisingly, due to its proximity to Black Marsh, the flora consists mainly of fungi and pitcher plants. Two Oblivion Gates might open nearby during the Main Quest. A derelict house on an island in Topal Bay can be seen from the camp. Deepscorn Hollow is located beneath this island if the Vile Lair official plug-in is installed.
When the related quest is initiated, a new resident moves into the camp, an Argonian Shadowscale named Scar-Tail. He recently fled from his employers in Black Marsh, as he didn't want to carry out his tasks as royal assassin. The penalty is death, so Scar-Tail is currently living his life as a marked man in the remote camp. When you get there, he will be badly wounded due to a fight with a Dead Argonian Agent sent by the Argonian Royal Court, who can be found behind a nearby tree. The gold in the Hollowed-Out Rock is Scar-Tail's reward if you spare his life. If left alive, Scar-Tail will stay in Bogwater forever.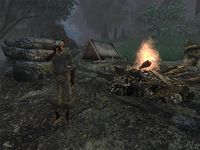 Occupants
Contents
1 bedroll
1 Hollowed-Out Rock (non-respawning)
Flora
Related Quests
Edit
The contents of the Hollowed-Out Rock do not respawn. This means that the container is safe for storage, but also means that emptying it before the quest reward is due will result in no further gold being obtained.