Green Stain Cup Cap
00

08446A

1
0.1
Alchemy Effects
1st
 Restore Fatigue
2nd
 Damage Speed
3rd
 Reflect Damage
4th
 Damage Health
Sources
# Samples
6
Plant
Green Stain Cup
 %
50
# Plants
4292 Total (4080 in Tamriel, 211 in Paradise, 1 in buildings)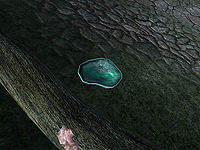 The ingredient Green Stain Cup Cap comes from the plant "Green Stain Cup", which is a very common mushroom in the Blackwood region and can also be found in the Great Forest and Nibenay Valley regions. Green Stain Shelf Cap comes from a plant that is very similar in appearance, but much rarer.
Ingredients
Edit
6 guaranteed samples can be found in the following locations:
It can also be found randomly in the inventories of alchemy vendors and in some loot chests.
The places with the highest concentrations of Green Stain Cup Cap are:
One map marker location with a high concentration is:
1 can be found growing inside:
1 plant is in the Bruma Mages Guild Living Quarters