Ulmiso Maloren

 (ulmiso maloren)

Home Town
Ghostgate
Store
Tower of Dawn, Lower Level
Race
Dark Elf
Gender
Female
Level
10
Class
Healer Service
Merchant
Gold
200
Mercantile
Novice (10)
Buys
Spells
Other Information
Health
70
Magicka
100
Alarm
100
Fight
30
Faction(s)
Tribunal Temple

(Initiate)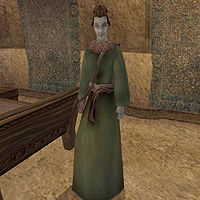 Ulmiso Maloren is a Dark Elf healer of the Tribunal Temple on the lower level of the Tower of Dawn in Ghostgate. There she sells potions and spells, mainly in the school of Restoration, to all who need them.
She wears a common robe with common shoes. Aside from her natural resistance to fire and the sanctuary provided by her ancestors, she know the following spells : Restore Willpower, Restore Speed, Restore Intelligence, Restore Agility, Seryn's Blessing, Regenerate, Stamina, Zenithar's Gospel, Vitality, Veloth's Grace, Third Barrier, Telekinesis, Strong Shock Shield, Strong Frost Shield and Strong Fire Shield.
Ulmiso Maloren has the following spells for sale: