Lore:Heljarchen
The UESPWiki – Your source for The Elder Scrolls since 1995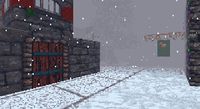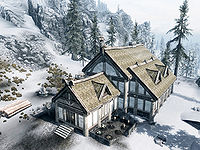 Heljarchen (also called Helarchen Creek)[1] is a historical settlement located in the region known as the Pale, within the province of Skyrim. It is found on the edge of the Pale, where the mountains descend into the great plains of Whiterun Hold. By the Fourth Era the original settlement had been abandoned and a private homestead known as Heljarchen Hall was constructed on the land.[2]
During the Imperial Simulacrum in the late Third Era, the village of Helarchen Creek was an active settlement, being ruled by Lady Ingte. It had a rivalry with Laintar Dale and Dunpar Wall.[1] It was neighbored by several settlements, including Dawnstar to the northwest, Dunpar Wall to the southwest, and Winterhold to the northeast.[3]
By 4E 201, the area had become entirely abandoned. The jarl of Dawnstar offered to sell the land to the Last Dragonborn as a private estate for the purpose of constructing a homestead and wheat mill known as Heljarchen Hall.[4]
References
[
edit
]