This page is currently being redesigned for the Lore Places Project (LPP).
The page may need work to meet the standards outlined on the project page.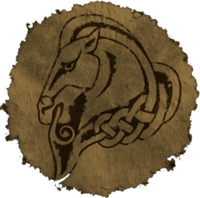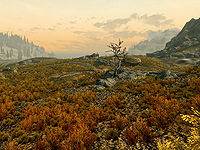 Whiterun Hold is a hold in Skyrim, located roughly in the middle of the province.[1] Roads numerous well maintained, and visibility across the plains is excellent. The hold is relatively flat, surrounded the by mountains of the Reach to the west of the Tundra Plateau, the Skyborn Range of Hjaalmarch and the Yorgrim Forest of the Pale to the north, and the Brittleshin Hills of Falkreath to the south.[2]:571 However, Whiterun's southeastern comer is dominated by the gigantic and soaring Throat of the World—the highest mountain in all of Tamriel.[2]:526
Whiterun is certainly one of the most well-tracked holds, with main roads and excellent access west to the Reach, with a border road north through the town of Rorikstead and up toward Dragon Bridge. The plains have a number of odd borrows and giant comps to investigate, and the center is dominated by Fort Greymoor and the surrounding Greymoor Foothills. The road here allows travel to the north, up through the Skyborn mountains to reach the dreaded Labyrinthian in Hjaalmarch. Further east is Whiterun and the roaring White River and town of Riverwood on the southern border with Falkreath. Another road stretches north from here, into the wilds of the Pale. There's yet another road that skirts the northern foothills of the Throat of the World, following White River Valley into Eastmarch. Although the first of the 7,000 steps that pilgrims climb to reach the summit of Throat of the World begins in Ivarstead (in the Rift), the actual mountain lies within Whiterun's domain.[2]:526
It borders six of the other eight holds in Skyrim, the exceptions being Winterhold and Haafingar.[3] Giants are often seen traversing the landscape while herding mammoths to grazing areas or back to their camps.[4] Surrounding the eponymous capital, Whiterun, are fertile plains dotted with farms that supply the food for much of Skyrim.[1] The other notable settlements in the hold are Rorikstead and Riverwood.
For game-specific information, see the Skyrim article.
References
Edit