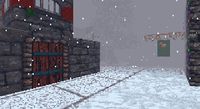 Helarchen Creek is a village in the province of Skyrim, southeast of Dawnstar. The ruler is Lady Ingte. Its rival is Laintar Dale. Dunpar Wall also has a rivalry with Helarchen Creek.
Helarchen Creek has road connections to Dawnstar, Winterhold, and Dunpar Wall.
Locations
Edit
Inns
Temples

Brotherhood of Seth
Brotherhood of the One
Order of the One Prophet

Stores

Bargain Equipment Store
Bargain Supply Store
Bargain Weaponry Store
<random>'s Professional Merchandise
Elite Supply Store
Elite Weaponry Store
<random>'s Finest Provisions
<random>'s Provisions
New Merchandise
New Provisions
The Adventurer's Tool Store
The Basic Merchandise
The Basic Provisions
The Essential Accouterments
The Essential Sundries
The Practical Accouterments
The Practical Armaments
The Practical Provisions
The Practical Sundries
The Wyrm's Weaponry Store
The village Weaponry Store
<random>'s Quality Weaponry Store
Unearthed Armaments
Used Gear Store
Used Sundries
Helarchen Creek has an abundance of stores compared to other locations.