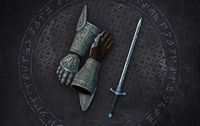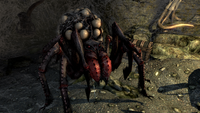 The Contest is a Creation featuring the return of the Fists of Randagulf and the Ice Blade of the Monarch which first appeared in The Elder Scrolls III: Morrowind.
Official Summary
Edit
Behind the din of tavern chatter, two warriors are embroiled in an argument. To settle it, they embark on a quest to see who can slay a monstrous spider. Follow their trail and learn what became of them. Includes the legendary "Fists of Randagulf" and the "Ice Blade of the Monarch" quest by Kris Takahashi. (The "Caught in a Web" quest starts by reading Adonato Leotelli's Journal in Candlehearth Hall.)
See The Contest Items for a detailed list of items added by the creation.
Items
Books
NPCs
Quests