Creation:
Redguard Elite Armaments
Released
November 11, 2021
Size
82.4 MB (PC) / (?) (Xbox One) / (?) (PS4)
Filename
ccedhsse003-redguard.esl
Availability
PC
Available from Creation Club for 400 CC Credits
Other
Also available on Xbox One and PS4, PlayStation 5, Xbox Series X/S
Requirements
Patch
Special Edition Version 1.6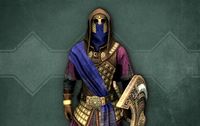 Redguard Elite Armaments is a Creation for Skyrim. It features a quest involving a Redguard spy network called the Remnants who have been betrayed to the Thalmor by a corrupt noble. This Creation adds a new armor and weapon set, and the legendary saber Boneshaver.
Official Summary
Edit
Connect with a network of Redguard agents known as the Remnants, and help them recover one of their own from the Thalmor. Includes a brand new set of light armor plus two new weapons, such as the legendary Yokudan sword Boneshaver! Created by ElleH and Jose McCallum "Shoeburglar." (Quest "Interception" starts by talking to Azadi in Shor's Stone far north of Riften.)
See Redguard Elite Armaments Items for a detailed list of items added by the creation.
Armor Sets

Remnant Armor and enchanted Remnant Agent Armor
Weapons

Artifacts
Books and Notes
Keys
NPCs
Quests