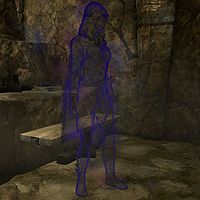 Nightingale Sentinels are the guardians of Nocturnal. They can be found standing guard in the Twilight Sepulcher. They are equipped with a full set of Nightingale weapons and armor, a copy of Karliah's bow, and elven arrows. However, only the arrows are present when pickpocketing or looting a sentinel.
Related Quests
Edit
When alerted to the presence of an enemy:
"I sense a presence..."
"Hmm? Does someone live among the dead?"
When detecting an enemy:
"Mortal fool! No one hides from the dead!"
"Death comes for you now!"
"Who dares disturb my rest?"
"You are not welcome here!"
"All the living shall fear the dead!"
Nightingale Sentinels are not considered undead in the game data, so they are not detectable with the Detect Dead spell, but rather with Detect Life.