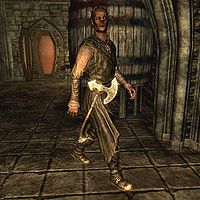 Namasur, a Redguard destruction mage, is a vampire living in Volkihar Keep.
Namasur wears a set of gray colored vampire armor with a matching pair of boots. He is equipped with a leveled one-handed weapon which can be up to elven quality. He carries random leveled bandit loot, as well as a 25% chance of carrying 1-9 gold.
If you sided with the Dawnguard, he will be one of the vampires outside the front gate during the quest Kindred Judgment.
Related Quests
Edit
His potential greetings are:
"I'm a loyal servant of the lord of the castle, nothing more."
"The feast never ends here in Castle Volkihar."
"Sit down and enjoy yourself."
"There's plenty for all."