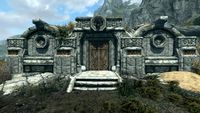 Daighre's House is the home of Daighre, next door to Skaggi's house, near the Left Hand Mine.
It is the first house on the left after crossing the bridge leading to the entrance to the Left Hand mine. It contains only one interior zone, Daighre's House.
Residents
Edit
Walkthrough
Edit
It is a single story Dwemer dwelling in a small settlement, where the miners from the Left Hand Mine live. The entrance is frequently left unlocked. The miner's barracks are directly opposite. There is a juniper tree growing on the roof.
Daighre's House
Edit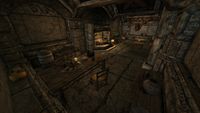 Inside it is a single roomed house with a large fireplace in the middle of the north wall with a pot hanging in front of it containing a grilled chicken breast and a portion of grilled leeks. To the left of the fireplace is an unlocked non-respawning chest containing leveled items, with a basket on the floor containing two gourds and food barrel on either side of it. Coming out from the west wall is a long wooden table with a bottle of alto wine, two loaves of bread, a grilled chicken breast and a cabbage in a cast iron pot on top of the table. On a ledge on the west wall is a deer hide, a bottle of wine, a loaf of bread and a sliced goat cheese. Against the south wall is a dresser with a bunch of lavender on top and containing fine clothes. At the other end of the room there are two single owned beds, Daighre's is along the north wall and Erith's is along the east wall. There is a ledge along the east wall with a copy of Horker Attacks and a couple of food sacks on top, with a rack hanging from the ceiling above holding a rabbit. There is a food barrel in the southeastern corner with a crate and sack to the right. On the crate is a leather strip.
Aside from most barrels and sacks, all containers in the house are non-respawning and safe to store items in.