Skyrim:Cairine
The UESPWiki – Your source for The Elder Scrolls since 1995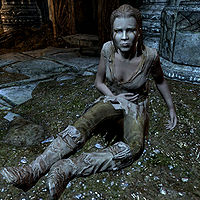 Cairine is a Breton citizen living in The Warrens, the hub for all the poor and sick of Markarth.
She wears a set of ragged robes and a matching pair of ragged boots. She only carries an iron dagger.
She used to work at the Smelter in Markarth, but is now too sick to do so. Instead, she spends her whole day sitting on the ground of the Warrens holding her stomach in pain. She is understandably unhappy with her lot and frequently reminds the player that "You don't want to be here. No one wants to." and will follow it up with "Don't know anyone here doesn't have Rattles or Ataxia."
If you are part of the Volkihar vampiresDG, you will eventually get tasked by Vingalmo to turn a citizen into a vampire. Cairine is one of these possible victims and Vingalmo will describe her to you as "A pathetic creature in her present condition, but the gift will embolden her. And her lowly state suits her to being our eyes and ears in Markarth." Once you have turned her she will be very grateful and greet you with "Great gift of blood you've given me. Blood that boils in my veins. Gives me strength.", following up with "You can use my coffin whenever you like." Her new gift also seems to have turned her a little manic and she often can be heard saying "Blood of the sick. Blood of the weak. Blood of the unsuspecting noble lord. Savor each flavor. Unsuspecting, delicious prey.", as well as "I keep an eye on their comings and goings. No one suspects poor Cairine. Poor, poor Cairine. Ha!" and "The darkness hums and we sing its praises. Sweet melodies. Sweet like the water that flows through their veins."
Related Quests
[
edit
]
When "killed" for the first time, Cairine will lie still on the floor, yet she is still able to able to blink, detect the player and engage in conversation.