Creation:
Alternative Armors - Silver
Released
November 11, 2021
Size
46 MB (PC) / (?) (Xbox One) / (?) (PS4)
Filename
ccbgssse056-ba_silver.esl
Availability
PC
Available from Creation Club for 100 CC Credits
Other
Also available on Xbox One, PS4, PlayStation 5, and Xbox Series X/S
Requirements
Patch
Special Edition Version 1.6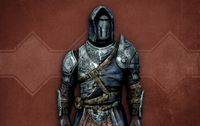 Alternative Armors - Silver is a Creation that adds Silver Armor that is based on the Silver armor set from Blades.
Official Summary
Edit
Includes four pieces of heavy Silver armor as featured in The Elder Scrolls: Blades! Quest by Kris Takahashi. (Quest "When the Cat's Away" starts by reading M'Sharra's Diary at The Bannered Mare in Whiterun.)