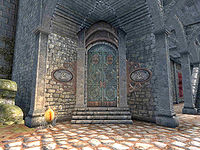 The Choosy Beggar is the only establishment for drinking and eating in Bliss, the manic half of New Sheoth. It is located across the plaza from The Missing Pauldron.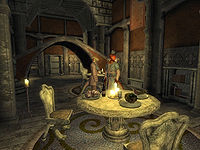 The proprietor, Raven Biter, has 3 gold and a Mercantile skill of 44. When bartering, he will buy potions and food while only selling the latter. He is married to Sheer Meedish and is insanely jealous on her behalf, to the extent where he warns all customers to stay away from her. He will reluctantly rent you a bed for 20 gold a night as long as you stay away from his wife, who will be sleeping in the room next to yours.
The interior is decorated Mania-style, with the dining and drinking area on the ground floor and two rooms upstairs, the two floors connected by a wooden staircase. The ground floor consists of two tables with various foods and drink, including Grummite Eggs and Alocasia Fruit. There are also two sets of shelves filled with books related to the Isles and several racks with cheap drinks from Cyrodiil. The main feature in the taproom, though, is the odd arch structure that takes up a large amount of space and seems to serve no useful purpose. The room you can rent is on the second floor, right across from the stairs. It is spacious, yet unremarkable and contains the typical Sheogorath bust with lettuce and yarn and two cupboards; one with clothing and one with clutter.
The name is a reference to the saying, "Beggars can't be Choosers"