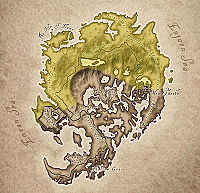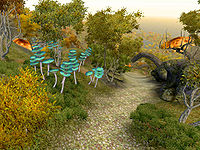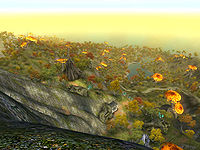 Mania is the northern half of the Shivering Isles. It represents the creative side of Sheogorath's madness, and tends to have overly bright colors, as opposed to the unnaturally dark colors of Dementia. The main town in Mania, and the only one which provides any services, is Bliss, which has an Inn and Blacksmith.
The residents of Mania tend to be less gloomy and depressed than those of Dementia, but their bright nature can often shield a deadly aspect. Order is kept by Golden Saints, who fulfill the same functions as guards in Cyrodiil and the Dark Seducers in Dementia. Mania contains examples of all creatures living in the Shivering Isles, with the exception of the Dark Seducers, who are specific to Dementia. Some creatures, however, such as the Elytra, appear different from their Dementia counterparts.
A list of places in Mania can be found here.