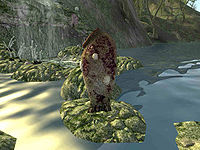 The ingredient Letifer Orca Digestive Slime comes from the Dementia plant "Letifer Orca Planta". In Mirili Ulven's list for Taxonomy of Obsession, this ingredient is simply called Digestive Slime.
Ingredients
Edit
14 guaranteed samples can be found. The places with the highest numbers of samples are:
It can also be found randomly in Ahjazda's inventory and in some loot chests.
The places with the highest concentrations of Letifer Orca Digestive Slime are:
Map marker locations with high concentrations include:
10 can be found growing inside: